What's the New Live Roulette From Evolution Gaming?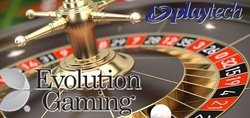 Technology is all about improvement and as it struck the waging industry, it had also experienced vast changes - taking betting on the online platform and even allowing everyone to enjoy live dealing in the comfort and premises of their own homes. One of the most revolutionary, leading provider in the technology provider sector today is Evolution Gaming and Playtech. They have brought various changes to the world of online gambling and just recently, the two of them have released mind-blowing systems that will surely be a game-changer in the industry.
Evolution Gaming is a technology provider that specializes in bringing live dealer features into a whole new level, has rendered a unique Roulette Dual-Play system on the revered Casino called Dragonara which operates under the jurisdiction of Malta. As the name suggests, this system intends to combine two components into one play system which will surely redefine your gaming experience. What they're going to combine is the gaming experience of web-based and land-based players, allowing them to play with each other in single wheel.
Yes - this means that even at the comfort of your own home, you can play on an actual, real-time, brick-and-mortar establishment, and play with physically present people there all in one table. This may even allow you to play with someone you know who maybe present on the land-based establishment's vicinity. Land-based players can also play with dealers through the wireless internet and system of the establishment.
The directors of Evolution Gaming were indeed happy with the results of their system as they expect it to open up new doors and increase the potential revenue of the company and render players with more versatility and immersive gaming. On the other hand, Playtech also didn't get left behind as it introduce a new interface for live dealing which will allow players to view the game in different angles with an extravagant full-screen aspect. With such innovations brought by these two big players, we can definitely expect more revolutionary changes in the years to come.